In order to try something unique, I decided to upgrade my sandrail from the stock VW 1600 to a mazda rotary. The mazda rotary is a very different engine, based on the original wankel rotary engines. It doesn't have pistons — instead it has "rotors" which spin around in a sort of spirograph type motion. Common rotary engines are the mazda 12A and 13B, which each have two rotors.
Below is a picture of the completed Sandrail, at the Oregon coast.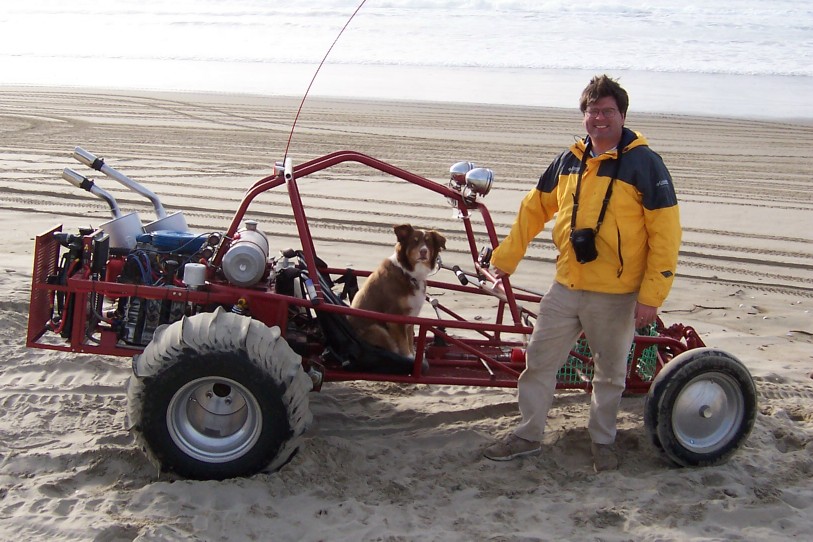 Since I didn't find a real good source of information on how to do the engine swap on the web, I've put together this page that documents the process that I went through (right, wrong, or otherwise…) to do it.
In order to test the concept, and make sure I liked the engine, I purchased a used engine and tranny from a junk yard for $150 ($100 for the engine, $50 for the tranny). For a narrative of what it took to get the junk engine running, click here.
I also have page that describes the necessary mods I had to make to get things working.
Once the junk engine proved the idea viable, I went ahead and ordered a good rebuilt engine for a reputable builder, and the necessary adapter to connect the 12A to the volkswagen transaxle.
I also put together a step-by-step list of the process I went through to get the motor up and running.
The three most important rules about swapping out a VW engine for a higher performance engine:
You're going to blow out the transaxle
You're going to blow out the transaxle
You're going to blow out the transaxle
What I'm trying to get at here is that you should either have a close look at your tranny and beef up any weak parts, or be sure to be careful in how you drive the thing.
---
Questions / Comments / Etc — email me at sandrail@smbaker.com
---
Topics in this section: