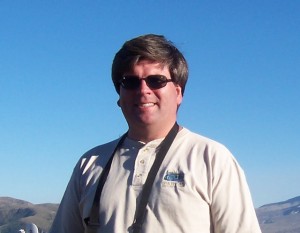 Welcome to the home page of Dr. Scott M. Baker.
This website contains information about me, my hobbies, projects, and other activities. It contains a bit of biographical information and some information on the kind of work that I do.
If you've found my site from one of my blog-related Youtube videos, then you can jump right to the most recent blog post, or view the electronics project index.
Many people remember from the old BBS games that I used to write. The BBS (or Bulletin Board System) was in many ways the predecessor to the Internet. Back in the 1980s, many people would operate a BBS out of their house where other users could call in and write email or play games. I wrote several BBS games that turned out to be quite popular, the most popular of my games being Galactic Warzone and Land of Devastation.
One of my other great hobbies is working on Sand Rails and Dune Buggies. The SandRail page contains information about my various Sandrail-related projects. I've built both Mazda-powered and VW-powered Sandrails. My current 'rail is powered by a fuel-injected turbocharged VW engine. I also have a manx-style buggy.
You can email me at smbaker@smbaker.com.
For those who are wondering if I'm a particular Scott Baker that they might have known, here is some information about me…
I was originally born in South Dakota and moved to Tucson, Arizona right around the time I became a teenager.
I lived in Tucson for about twenty years, attending high school at Canyon Del Oro High School (class of 1990)
I attended the University of Arizona, earning Bachelor's, Master's and Ph.D degrees.
I currently have several different jobs. First and foremost, I write and sell Internet-related software. I've written a few programs such as website downloaders, password managers, and even aviation utilities. I'm also a software consultant for projects that are network or systems related. I work on Linux device drivers. I also do work with configuration management, software distribution systems, and content distribution systems for Linux. One of my focuses is on computer security, and I typically work on the security aspect of software systems.
My schedule is quite busy, but I am occasionally available for consuliting work on a case-by-case basis.