My elliptical machine is about 5-7 years old now. It's had relatively light use as I tended to use my treadmill instead. In fact it spent a couple of years in my winter home, where it wasn't being used at all. Deciding to get back into shape I figured I'd crack open the good ol' CX 985 and give it a shot. It worked great…. for about 3 weeks. Then this happened to one of the wheels: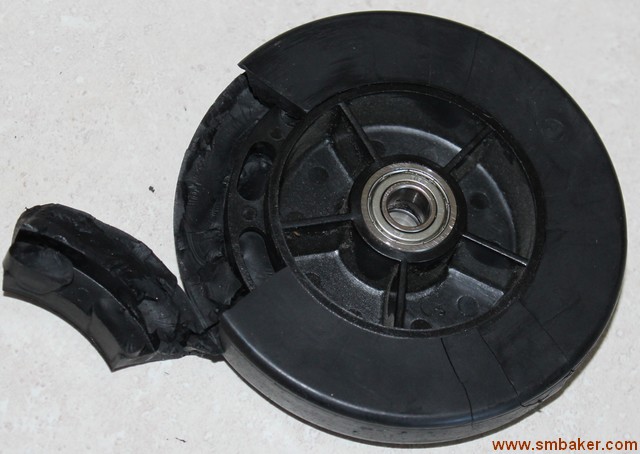 The rubber on the wheel just sort of disintegrated. It wasn't from use. It was just old. Apparently the wheels on Nordic Track Elliptical machines like the CX 985 only last about 5-7 years and then they spontaneously disintegrate. Never fear, Nordic Track is a good name, I ought to be able to order a replacement wheel, right? Well the nordic track website reveals that replacement wheels cost…
$ 83.95 per wheel
Yep, that's right about eighty-five bucks for a replacement rubber wheel. The machine takes four of them. If one is bad, you can be all four are about ready to give out. A total replacement cost would be about $335. That's well over half the cost of the entire machine when it was new. Four cheaply built, poorly constructed wheels cost over half the cost of the machine. They'd probably go bad in another 5 years, if they even lasted that long. Looking at these wheels, they're nothing special. The bearings are standard $1.50 bearings (sold at the Nordic Track store for $9.50). I can guarantee this wheel could be sold at a profit for around $8, not $85. That's a 1000% markup for us good loyal nordic track customers. No thank you, this is the last nordic track machine I will ever buy.
In search of replacement wheels, I found several sources online. It turns out that inline skate wheels are approximately the same size. Inline skate wheels can be had for $15 or so. The ebayers will often list them for around $30 each as "nordic track replacement wheels", because they know you're frustrated from the $85 sticker shock and thirty bucks sounds like a bargain.
Okay, so we've found a source for replacement wheels…. nordic track failure-wheel is on the left, inline skate wheel is on the right: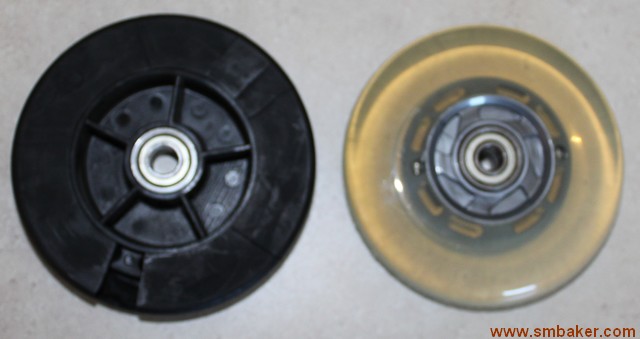 … unfortunately the CX 985 uses bearings that have a 3/8″ inner diameter. All of the inline skate wheels have 5/16″ inner diameter. You can't fit a 3/8″ bolt in a 5/16″ hole. This probably isn't the case for most Nordic Track machines; I seem to be one of the unfortunate consumers who ended up with a machine with the weird size. If you have any question what size yours are, just take the broken wheel to the local hardware store. If a 3/8″ bolt fits in it, it's 3/8″. If a 5/16″ bolt fits in it, then it's 5/16″.
Note: If your machine uses a 5/16″ bolt, then you can skip the whole remainder of this guide. Just mount your new wheels in place of the old ones. You might need a slightly-longer bolt if the wheel hubs are wider than your original. (well, you can still read the rest of the guide to laugh at my misfortune in having to deal with the improperly-sized bearing)
So, we're faced with a couple of options. One option is to swap the bearings. The old bearings almost fit in the new wheels, I could probably force …err I mean press… them in. However, the inline skate wheel has a funky little spacer in the middle of it that is also too small for my Nordic Track bolt. The next option is to use a 5/16″ bolt and a sleeve to make the smaller bolt fit the larger diameter hole in arm of the Nordic Track (without a sleeve, the small bolt would sit sloppy in the machine). What I needed is a sleeve that's 5/16″ on the inside and 3/8″ on the outside. Here's a picture: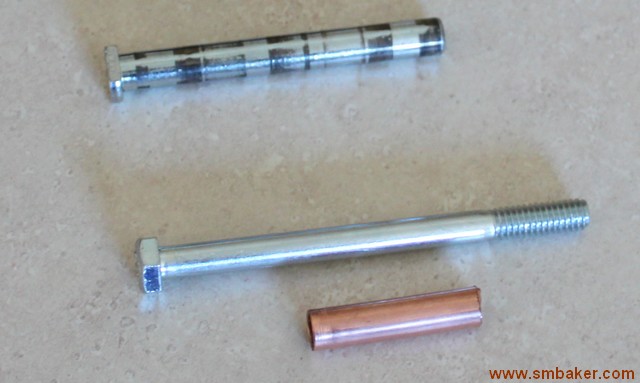 You can see the nordic track bolt on top, and my bolt and sleeve on the bottom. Note that I would have preferred a grade-8 bolt and probably will substitute one as soon as I can locate one. My local hardware store only had 3″ grade 8s, and I needed a 4″. It looks like a nice little bronze sleeve bearing that I found, doesn't it?
Well, it isn't… 3/8 x 5/16 sleeve bearings are kinda hard to find, especially on a Sunday. I'd probably have to order one. So, I took my bolt to the hardware store and search for something of the proper dimensions. What I found was …. copper plumbing tubing: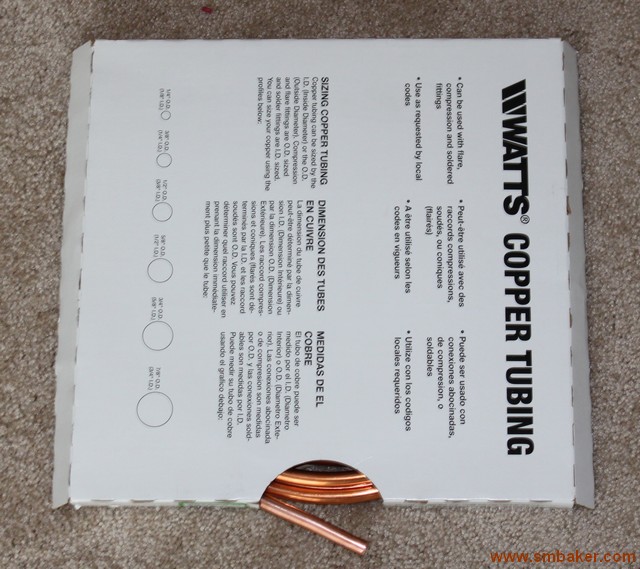 This was 3/8″ OD pipe. It says it's 1/4″ ID. However, it's not. It's really 5/16″ ID. The pipe manufacturer probably figured they could save a few bucks by making the walls of the pipe just a wee bit thinner. If you go the same route as me, make sure to verify this; I don't expect that all copper pipe is of the exact same dimensions as mine. It's amazing just how perfect the fit was. An engineer will tell you that copper pipe != bronze sleeve bearing. Well, we'll just have to see how well it holds up. It's tight enough and the rest of the parts have ball bearings, so I bet the little copper sleeve will suffice for the life of the machine. If I'm wrong and my elliptical machine self destructs, I'll be sure to let you know. Anyhow, here's a picture of the sleeve installed in the arm of the Nordic Track CX985: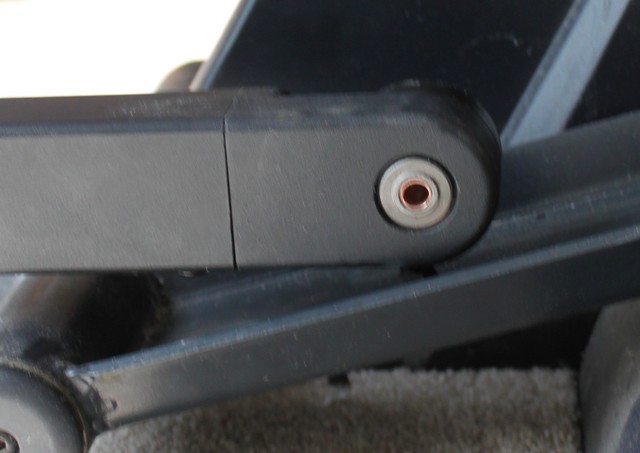 It just took some light sanding and a little tapping to get it to fit tightly in there. We now have a 5/16″ arm, a 5/16″ bolt, and 5/16″ wheels. All we need to do is assemble them: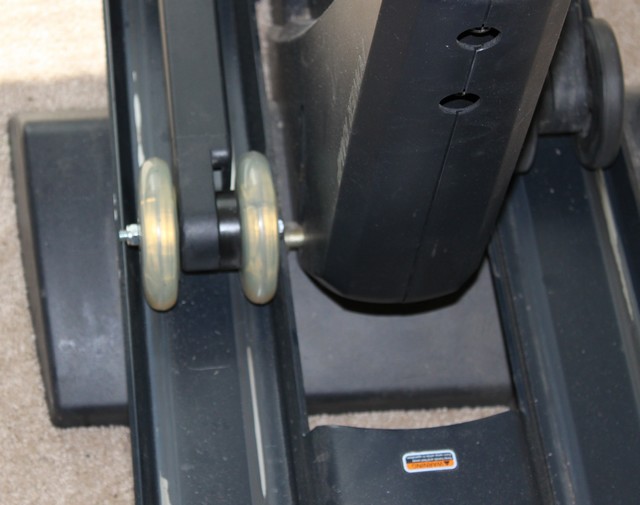 Look at that, total cost was nineteen cents for the bolt, eleven bucks for the pipe (with 9 feet 11 inches left over), thirty bucks for the pair of wheels = $41.19. If I'd bought the wheels from the Nordic Track store, this would have been 167.90, not including the bolt.
So far it's working good with one exception. It squeaks just a little bit. Kinda like there's an unfortunate cat caught up inside of the mechanism. The squeak is nothing to do with the bearings or the bolt or the pipe, or anything I did, but rather is the side of the wheel rubbing against the the sides of the track. As you can probably tell in the above pictures, the wheels sit just a little bit wider than the original nordic track wheels did and their shape is just a little more rounder than the nordic track wheel, which had a flatter profile. A tiny bit of grease applied to the side of the wheel has stopped the squeaking. We'll see how long it holds up.
Well, that's all there is. Unfortunately, Nordic Track's excessive greed in the price of the poor quality rubber wheels has led me to no longer recommend their equipment. Nordic Track elliptical machines are officially on the do-not-buy list. I could understand a 20% markup, or even a 50% markup, but a ONE THOUSAND PERCENT MARKUP is ridiculous. It's a massive ripoff of the consumer who unfortunately placed his faith in what was supposed to be a quality-built machine.
Oh … and just to make things interesting… the inline skate wheels had little LED lights inside of them, so now my elliptical machine lights up at night… unexpected feature? or annoying blinky thing? you decide!