This project has been going on for years and has seen a number of prototypes, from a quick breadboard I made from an instructables article all the way to a custom circuit board. Here is a picture of the current prototype: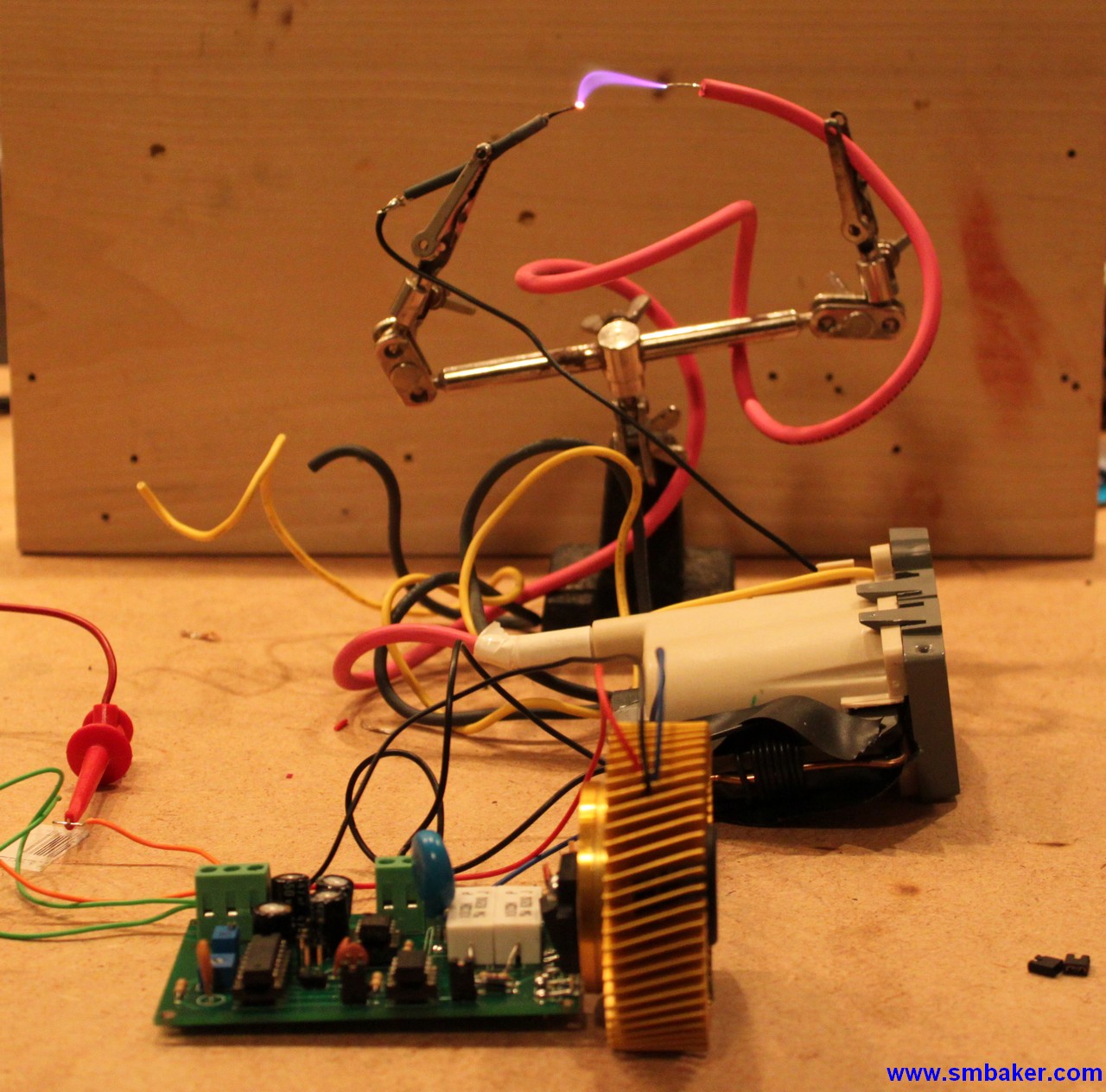 So what is a plasma speaker? A plasma speaker (aka "singing arc") is a speaker that uses a plasma arc to produce sound. By varying the intensity of the arc, different pressure waves are created. Pressure waves produce sound. If you google plasma speakers, you'll probably come across the instructables article — a lot of people have built that circuit, and this one is a variation of it. The problem is there is so much information in the comments of that instructables article that it's hard to separate the fact from fiction. At one point I even went and built a "full-bridge" driver that I found there that I never could get working. Some more research led to the circuit that I have here.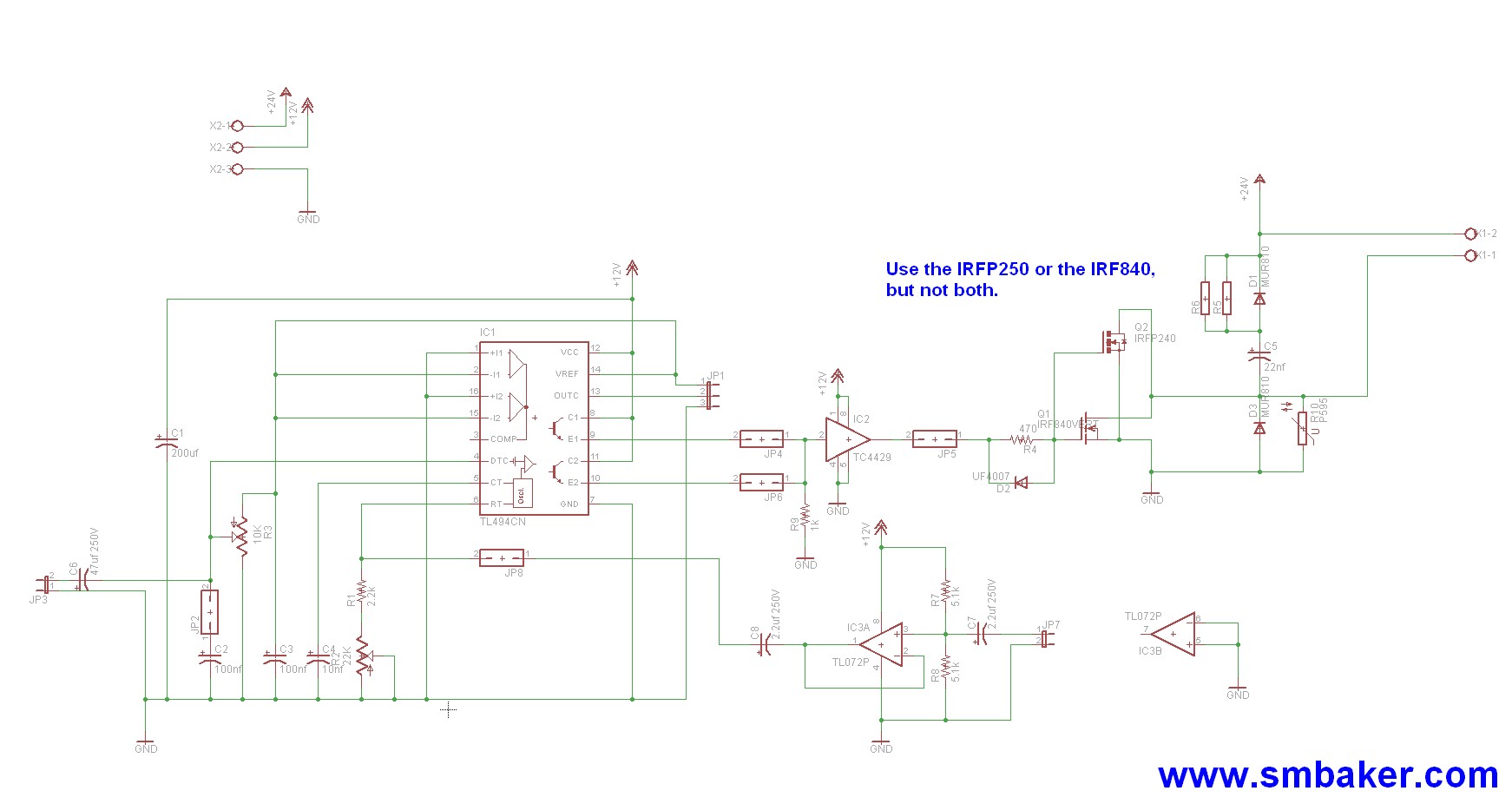 NOTE: Click on the schematic for the full-size version.
Let's start with some of the basics.
Flyback. First of all, the flyback transformer. Most of these DIY plasma speakers use a television-style flyback. You can find these things on ebay relatively cheaply, or you can scavenge them from an old television. Flyback transformers are used to create the high voltages used to drive a CRT screen. High voltage is dangerous, so don't mess with these transformers unless you know what you're doing. Most people wind their own primary on the flyback. It's pretty simple — you just wind 8-12 turns of wire around the iron frame.
Mosfet. We're going to be dumping 5-10 amps of current into a very low resistance primary winding, and we're going to be doing it at a fairly high frequency. To do this we use a transistor device called a mosfet. I'm not going to go into all the details of how they work, you can google that. The mosfet is the component that will be generating a lot of heat, and it's going to need a heat sink. Without a heat sink, your mosfet can be ruined in a matter of seconds. The heatsink should have a fan. A leftover CPU heatsink is a good starting place. Commonly used mosfets are the IRF540, IRF840, and IRFP250. The board I made will accommodate any of these, although I chose the IRFP250 because it's a monster in size compared to the others. By far the greatest problem with these circuits is blown mosfets from letting them get too hot and/or putting too much current through them.
Mosfet driver. One of the places where the instructables article went wrong is the lack of a mosfet driver and a pull-down resistor. Using a mosfet driver like the TC4429 (or MIC4429) is supposed to lead to cleaner turn-on/turn-off transitions on the mosfet, which is supposed to lead to cooler running and less potential for blown up mosfets.
Metal-oxide varistor (from Tobias' blog). MOVs are used to bypass high voltage spikes to ground. I'm not entirely sure about how this is supposed to work because I had a lot of issues with it. Selecting too low of a MOV (35 volt or 110 volt) bypassed a lot of current through the MOV. This led to a nice cool-running mosfet but a very very hot MOV. I currently have a 450V MOV installed. It doesn't get hot, but I don't know if it's doing anything either. I did blow a mosfet without it. The primary on the flyback will kick back an inductive spike when the mosfet switches off. I think the idea is we use the MOV to shunt that inductive spike to ground rather than letting it beat on our mosfet. More experimentation needed here.
Snubber (from Tobias' blog). Ok, I'll admit I don't know a snubber from a hole in the wall. It was in tobias' circuit, so I incorporated it into mine. I believe the goal here is also to smooth out some of the voltage spikes. I can't tell if it's doing much in my circuit or not.
TL494 chip. The TL494 is a pulse width modulator IC. It's commonly used in switching power supplies. We're going to use it to supply the frequency to drive the mosfet, which in turn drives the primary winding of the flyback. Some designs use a 555 timer IC. The TL494 seems to be overkill for the task. The TL494 has two different output control modes. There's a parallel mode and a push-pull mode. We want the parallel mode, which in my circuit means jumpering OUTC in JP1 to ground.
Audio modulation (technique 1). So, our TL494 can supply a high-frequency drive signal to run our mosfet, which runs our primary winding. Now we need to modulate that frequency so that it produces variations in plasma arc, which will produce sound pressure waves. There's two ways to do it. The first from the instructables article is to feed the audio into the deadtime control. This technique will change the width of the pulses that the TL494 is producing. By varying the pulse width we supply a different amount of energy to the primary winding, which will result  in variations in plasma arc, resulting in our sound.
Audio modulation (technique 2). Tobias' blog shows a different technique. He runs with a fixed dead time, but applies the sound via an op-amp to the RC section of the TL494. This will alter the frequency of the wave going into primary winding. By altering the frequence, we can produce different plasma arcs, creating different sound pressure, and producing our audio. I'm having a bit of trouble with this technique as it keeps throwing my mastech power supply into short-circuit protection mode. Have to work on it a bit, as I think it's going to be the better technique.
Now, some pictures of my completed board: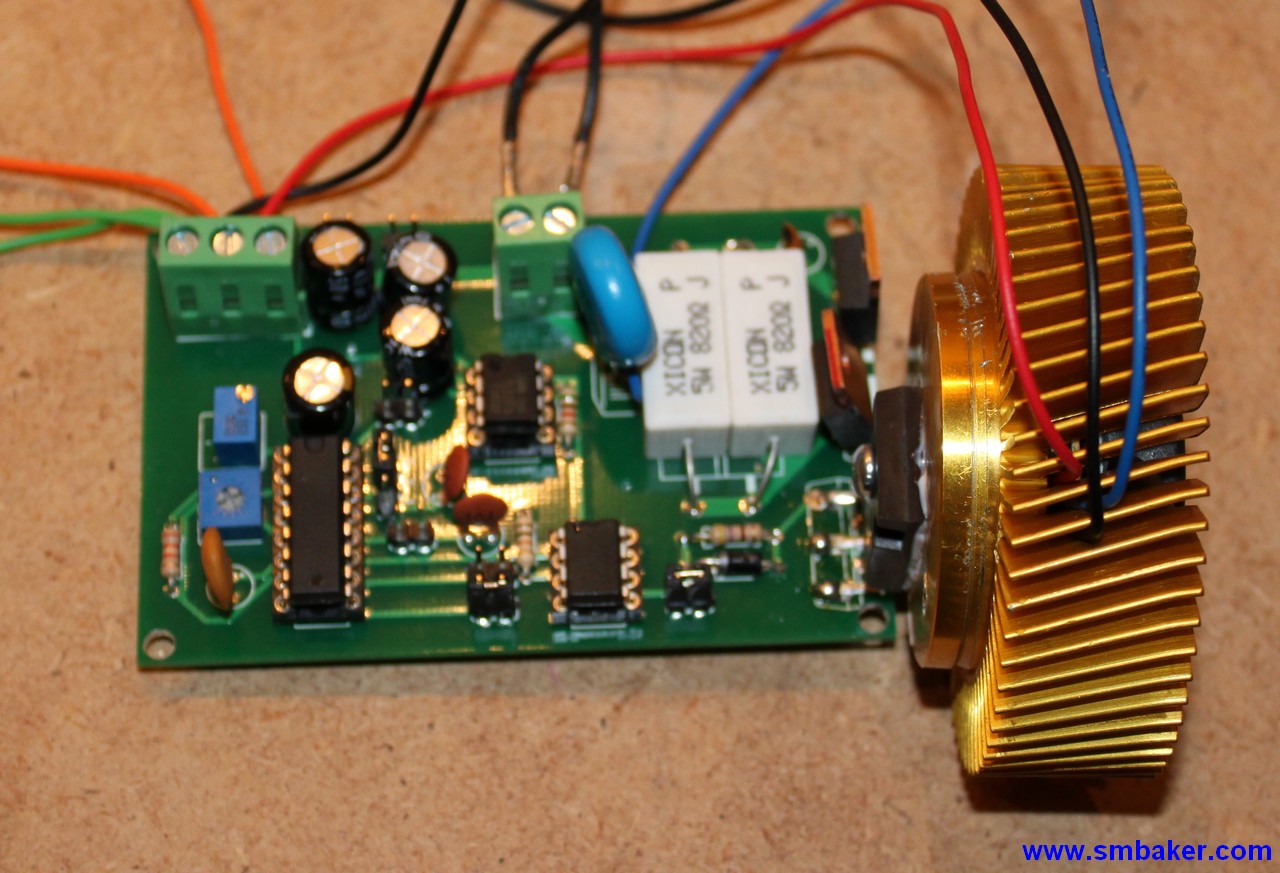 And, with some arrows showing the parts: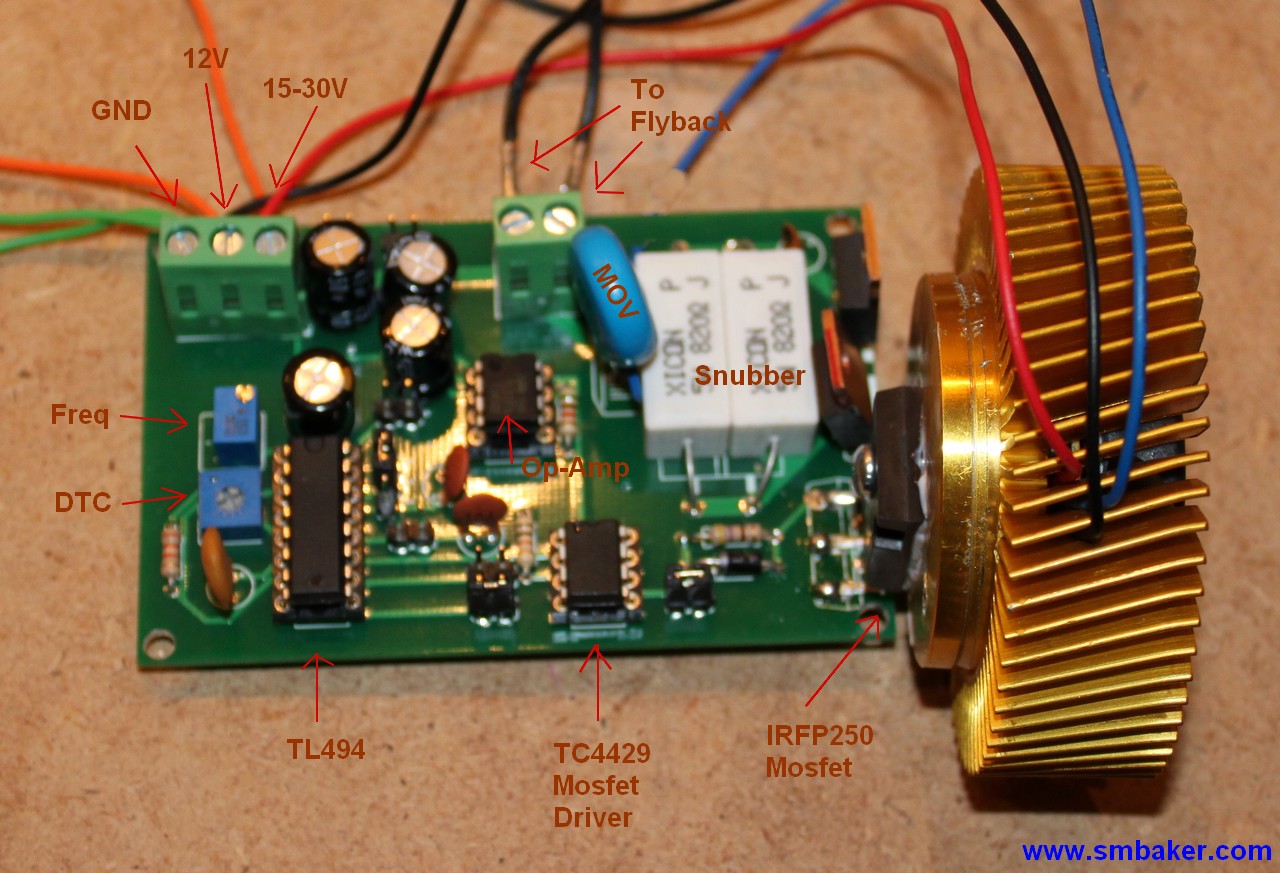 A couple of waveforms from the Rigol digital scope. Both waveforms are at 10V input to the flyback. The yellow trace is 10V/div and the blue trace is 10V/div. Yellow is the TL494 output to the mosfet driver. Blue is the wire feeding to the flyback primary (taken from one of the legs of the Mov). The first waveform is with the spark gap separated and no arc. The second is with the arc occurring. Frequency in both cases is about 96 Khz. No audio modulation in effect.
(click the waveforms to bring up full-size versions)
Ok, so the voltage on yellow is about 10.8 V peak-to-peak, which sounds about right for our TL494 driven at 12V. The voltage in the blue shows spikes in the range of 160V (pic w/o arc) and 230V (pic w/ arc). The TC4429 is an inverting driver, so when the yellow line goes high, the line to the mosfet goes low, and the mosfet turns off. I'm guessing the blue spikes are the inductive kickback from the primary, but someone with more electronic knowledge than me can confirm this.
Following Tobias' suggestion, I added some capacitors in parallel with the flyback primary. Some experimentation is necessary here to find the correct capacitance. Adding capacitance may allow you to get a steadier arc at a higher frequency, so some back-and-forth tuning is necessary. I ended up using a pair of 0.01uf/1.6KV capacitors. My first attempts using caps rated at 250V led to quite hot capacitors; it could be because the inductive spike was in the neighborhood of 300V. 600V rated caps would probably be just about right.
Below are some screenshots of the waveforms with arc, at 30VDC, 2 amps on the flyback primary. Frequency was upped to about 130 Khz. The one on the left has no caps, the one on the right has two 0.01uf/1.6KV caps in parallel with the primary:
(click the waveforms for a bigger view)
Adding the capacitors allowed me to get a higher frequency (130Khz) at 30 VDC and a lower current draw (2 amps instead of 4). The mosfet is now running much, much cooler than it did before, and I'm no longer running a hot MOV either. Sound is good, a definite improvement.
Version 2.0: The push-pull driver board:
Started work on the push-pull driver board today (9/20/2010). Below is a picture of the newly completed push-pull driver board on the left, a separate snubber/capacitor board on the right, and an old-school flyback from ebay in the back. Taking the rest of the evening off to watch an episode of House (yes, you heard it here first, Dr. Gregory House, MD, is better than a plasma speaker) so trying out the circuit will have to wait a couple days.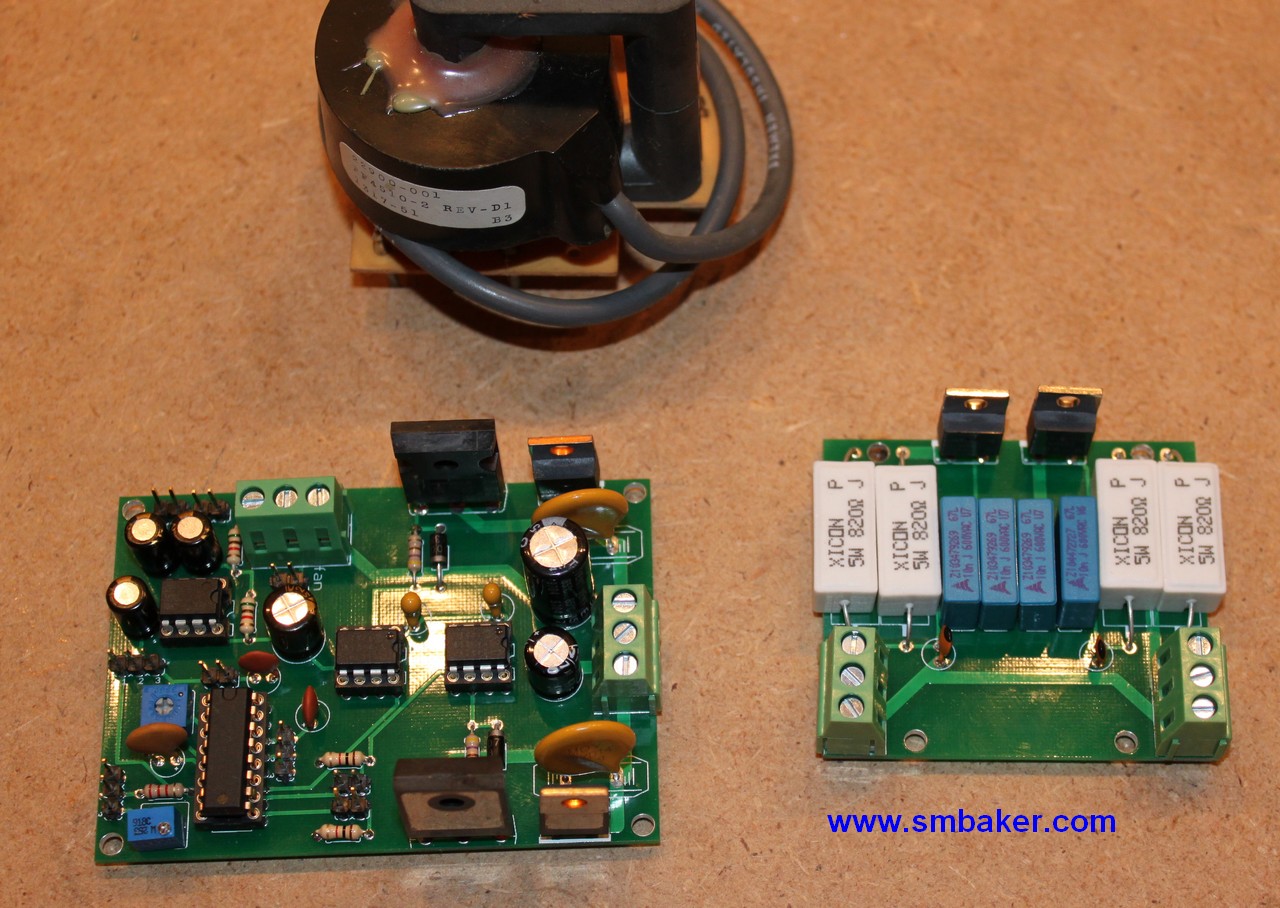 Resumed work on the push-pull board today (6/26/2011). Has it really been nine months? I suppose it has. In that time I managed to completely rebuild a VW sandrail (see other blog posts) and build some cool dekatron gizmos, and actually get some real-world work done to earn a paycheck.
First, let's have a look at the push-pull driver board schematic (it'll be too small, so click for a much bigger view):
This board incorporates a lot of options. There are jumpers — JP4 and JP6 that allow each driver section to be jumpered independently (they should both be in place for push-pull operation). JP1 selects push-pull (1-2) or parallel (2-3). JP11 is for me to connect an external frequency pot (jump 2-3 to use the on-board pot). JP10 lets me use the op-amp for either frequency (1-2) or deadtime (2-3) modulation. JP7 is an input to the opamp. JP3 is for direct deadtime modulation, similar to the instructables article.
The snubber circuitry has been duplicated for two windings, and moved to a separate board.
The first thing I did was obliterate my new flyback transformer. I purchased some new transformers from ebay that were supposed to be some old-school ones that eliminated the diodes and extra windings and all the crap that the new transformers have. Unfortunately, I managed to quickly burn out the wiring on it, so I went back to the trusty old flyback from the original experiment.
So, a few things are evident with this board – 1) I don't seem to be getting the frequency range that I used to. 2) I seem to have to run the deadtime pot maxxed out. I don't remember the original board being that way; perhaps its a property of the push-pull circuit. I really should re-read the datasheet and remind myself how the TL494 worked.
I'm also pulling more power than before. To get a good sounding arc (and it does sound good), I'm pulling 6-7 amps at around 12-14 VDC. I can't even drive the circuit beyond 17 VDC, because I'm quickly maxxing out the current capacity of my power supply. Being a little careful because I don't want to burn out more mosfets (so far, so good). I'm sinking the mosfets with just a couple pieces of aluminum angle iron. Here's a quick view of the experimental setup: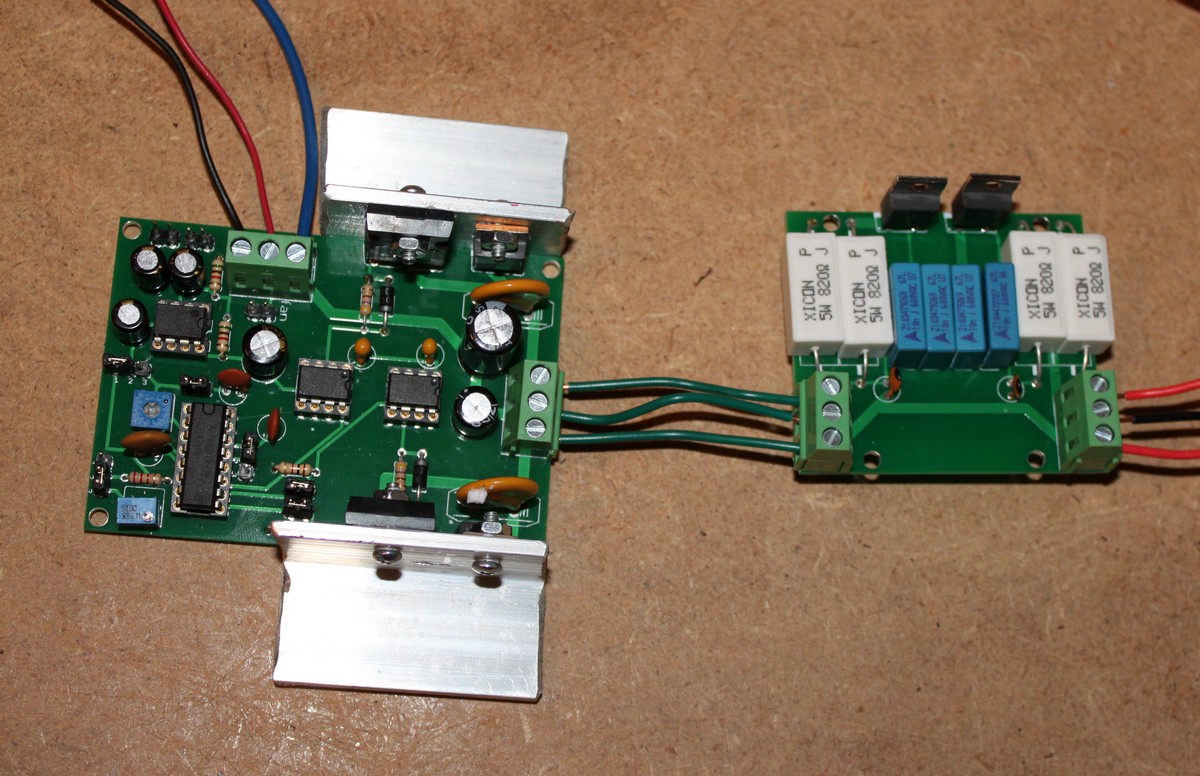 So, anyway, things to figure out for next time — why is this pulling so dang much current? perhaps I should use longer windings on the primary? I'm also going to have to remind myself whether I was frequency modulating, deadtime modulating, or something else on the old board.
References. There's a lot of research that I did (getting this thing to work has been over 2 years work!). The two primary references I used are:
Finally, a youtube video of my plasma speaker, as it currently functions: